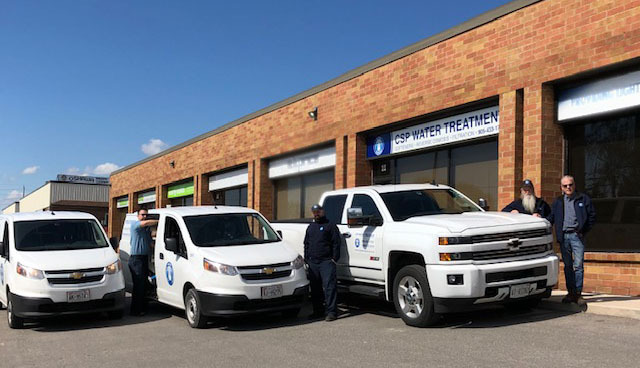 CSP Water Treatment is a Canadian company, operating for over 20 years in the GTA, specializing in water treatment chemicals and services for evaporative condensers, evaporative coolers and cooling towers as well as steam boilers and hot water boilers.  Our product range and technology base encompass a complete line of water treatment chemicals, reagents and cleaning solutions.  We also provide control, monitoring and diagnostic automation equipment to ensure the maximum efficiency of your heating and cooling systems.
Field technicians are thoroughly trained in closed re-circulating hot and chilled systems as well as open re-circulating water systems.  Technicians are trained to ASHRAE and AWT standards.  Spill Response, PPE, Transportation of Dangerous Goods and safe spill kits.  Emergency response contact indicated at service site and on service reports.
CSP Water Treatment consists of a professional team of qualified water treatment specialists skilled at offering reliable, cost effective and quality bio-degradable products and services to cover every aspect regarding the efficient operation of steam, hot water and cooling systems.  Our commitment to provide the very best in water treatment products and services will ensure that your system runs at optimum efficiency.